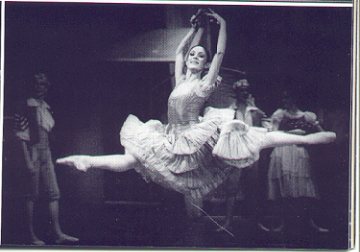 Gina I.
Gina Domenichelli-Illingworth trained at the San Francisco Ballet School and the San Francisco Conservatory of Ballet directed by Merriem Lanova, Antonio Mendes, and Carlos Carvajal. Her career began with the Oakland Ballet Company under the direction of Ron Guidi, performing in many Diaghilev-era ballets and working with notable choreographers such as Irina Nijinska, Enrique Martinez, Sheila Xoregos, and Anna Sokolow.
She was a principal dancer with the National Ballet of Norway and worked with many renowned classical and contemporary choreographers/instructors including Rudi Van Danzig, Andre Prokovsky, Woytek Lowski, Olga Lepishinskaya, Kirk Peterson, and Ib Anderson; dancing roles such as, Kitri in Nureyev's Don Quixote, Lise in Heinz Sporeli's La Fille mal Gardée, the Sylph in La Slyphide, Brian McDonald's Firebird, and also principal roles in choreography by George Balanchine, Jiri Kylian, Alvin Ailey, and Glen Tetley.
Ms. Domenichelli-Illingworth also worked with the Cleveland Ballet and Eugene Ballet companies as a principal dancer. She was one of the founding members of the Diablo Ballet in Walnut Creek, choreographing and dancing with the company during their initial seasons. She also danced with the Lawrence Pech Dance Company in its formative years.
Ms. Domenichelli-Illingworth directed the Lake Erie Ballet in Erie, PA producing original choreography for The Nutcracker, Cinderella, and Hansel and Gretel. She has been on staff at the Berkeley Ballet, Contra Costa Ballet, Northern California Dance Conservatory, Center Stage Dance Academy, Deane Dance Center, Sacramento Ballet, as well as the University of Idaho, Brigham Young University, and Mercyhurst University
She created the Mercyhurst North East Dance Institute in 2006, a professional dance training program for aspiring young dancers in the community. In addition to this extensive experience, she also holds a B.A in Dance and an M.S. in Organizational Leadership.